Leisure Travel
Located at the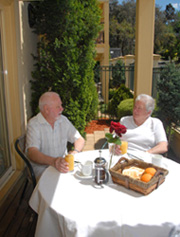 foothills of the Dandenong Ranges, Lifestyle Apartments at Ferntree provide a stepping off point to many activities and attractions.
The beautiful blue Dandenongs are renowned for their gardens and sanctuaries, superb views and bushwalking trails through lush rainforests, plus a smorgasbord of fine foods, antiques, arts and craft. It's a real adventure exploring the beautiful communities of Sassafras, Olinda and Mount Dandenong.

The Dandenong Ranges are a favourite location for holidays, weddings, devonshire teas and treasure shopping, all year round. The nearby Yarra Valley vineyards also tantalise visitors with their fine wines and gourmet foods. Take a ride on the Puffing Billy Steam Railway as it travels through the magnificent forests and fern gullies of the Dandenong Ranges or take a stroll through William Ricketts Sanctuary and admire the beauty of his combination of nature and art. Guided tours are available.

Local attractions include golf courses, tennis, basketball and fitness centres, community facilities, parks, bicycle and walking tracks are readily reached from Lifestyle Apartments.

Nearby National Parks have natural beaches, picnic grounds and lakes for swimming and water sports.

Tastefully appointed, Lifestyle serviced apartments offer full kitchen and laundry facilities, security intercom, high speed internet access, voicemail facilities and other features to make your stay functional as well as relaxing.